Set of Scene Bases Part 1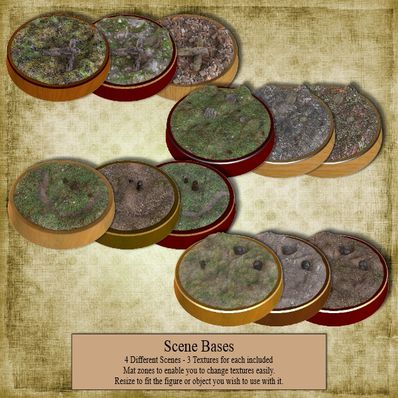 Set of 4 Scene bases with 3 textures each. Resize to fit the character or prop you want to use.

Mat zones so you can easily change the textures for your own.

Hope these are OK as the files somehow got corrupted after I had finished them, and I had to redo them all!!


Unzip and copy the data, Props, and runtime folders to your "/Documents/DAZ 3D/Studio/My Library" folder.

Commercial renders OK. Contents not for redistribution.
| | | |
| --- | --- | --- |
| Added: 12 Nov 2013 | Downloads: 1682 | Likes: 92 |
USAGE RESTRICTIONS
My items are not to be used on the Second Life website. They have recently changed their TOS and are legally able to take/steal anything uploaded and resell/redistribute the items.